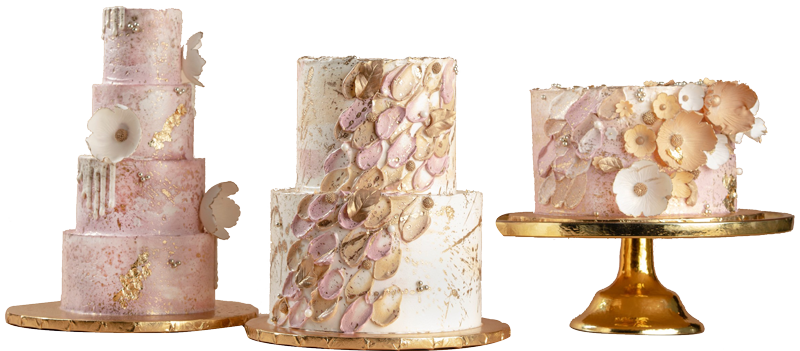 Are you are looking for something unique customizable to your needs? Over the top? And a showstopper? then you are at the right place.
Welcome to Delectable Cakes
We are here to put a little extra sprinkle on one of life's most precious moment; the day you marry the love of your life. Your wedding day is the start of something beautiful;. It is the one day you dreamt about since you were a little kid and we are happy to be a part of this special celebration. At Delectable Cakes we pride ourselves in making "not too sweet," scratch made cakes that take you on an experience from the very first bite. We specialize in luxurious non traditional/modern cake designs that are the centerpiece of your big day. Each handcrafted design has a story with a beautiful meaning behind it; what's your story? Click below to start the process.
Testimonials
Overall wonderful experience! Very professional, communication was amazing, and even took the time out to research multiple cake ideas I can choose from. My fiancé loved his engagement cake!!! Not only was it beautiful but it was delicious. Thank You Delectable Cakes!
Omg the cake is absolutely delicious and beautiful!!! I had my brother's thirteen birthday cake made here and I'm SOOO glad I went with Delectable Cakes; all my guests loved the cake. Will be back!!
I recommend all services!! Purchased a valentine's cake and it was well crafted. And a delightful treat!! Speedy delivery thanks delectable cakes for the wonderful experience
My 2 year old still talks about this cake a month after, it was truly an unforgettable experience not only did it look amazing, but the taste was out of this world thank you so much as always we will continue to order our goodies for every occasion with you.
Aside from the professionalism of Mariama, her passion for baking, attention to minute details and most importantly bringing customers vision to life makes her one of the best in the area. Delectable Cakes decorated my dessert table for my baby shower, and it was perfect. It was so beautiful that my guest did not think the treats edible. The cake was moist, with right amount of sugar and the cake pops were to die for! I wish Facebook would let me post videos of the dessert table. Thank you for everything Mariama
Hey Mariama finally got to eat the cupcakes they were amazing very moist and tasteful. The icing was also not too sweet which is exactly how we like it. Thank you again for your time and services
He was so happy with his surprise bday dinner, but the cake was the icing on the cake, pun intended lol. He said it wasn't too sweet and the icing itself was so yummy. Definitely coming back. It was everything I imagined.
We had the cake yesterday and it was absolutely 😋 thanks and will pass the info on.
Good thank you so much I enjoyed the cake it was good texture and everything
Very delicious cake! Had 16 people over and all loved it!
Mariama, thank you so much! I have already sampled. You do exquisite work!
Food was great, you went above & beyond with your service- tracking me down & delivering in such bad weather. My wife loved the chocolate. Thanks!
All 5 stars!! Tasted amazing! Very happy with both quality and service! We will definitely buy from you again and recommend you to all our friends! Thanks again! So glad to see you succeeding in your passion!
I can go all day about how delicious my cakes were and how professional Mariam is, but you should go ahead and contact her, and everything will speak for her. My guests were very impressed with the presentation and the taste. Will definitely order again.
Service is amazing, the customer service is great. And the cakes are out of this world. I am one satisfied customer. Thanks, delectable cakes for your service
Wonderful chocolates and cupcakes! If you want to treat yourself or a special person this is a tasty way to do it.